Asansol is the second largest city and urban agglomeration in West Bengal after Kolkata and the 39th largest urban agglomeration in India. Asansol is located in the Burdwan District of India. Its hinterland is Bankura and Purulia districts and North Bengal, linked to parts of Orissa and Jharkhand states. According to a report released by International Institute for Environment and Development, a UK-based policy research non-governmental body, Asansol is among the 11 Indian cities in the list of 100 fastest growing cities in the world with a rank of 42.
---
Coal and Railway
In 1774, Suetonius Heatly and John Sumner of the British East India Company realised that local people were using coal in the region of which Asansol is a part. Their early explorations and mining operations were carried out in a haphazard manner and demand was limited. Regular mining operations started in 1820, led by an agency house, Alexander and Co. In 1835, Prince Dwarkanath Tagore bought over the collieries and Carr and Tagore Co. led the field. For the entire 19th century and a major part of the 20th century, Ranigunj coalfield in the Asansol region was the major producer of coal in the country.
Eastern Railway Asansol Division
Established in 1925, Asansol Division is one of the oldest divisions of Indian Railways.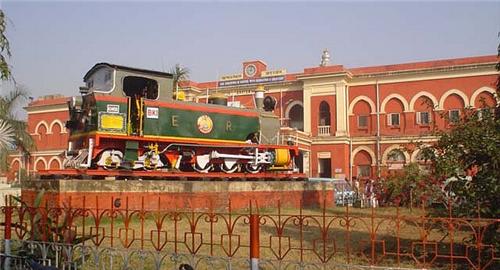 Language
Although Asansol is predominantly a Bengali speaking city today, Asansol has mixed population of Bengali, Hindi and Urdu speaking people, English is the language of business communication and once widely spoken. After the railway works came, there was a substantial British and Anglo-Indian population. English medium schools started to impart education in English from as early as 1877. The first Christian Brother School in India St. Patrick's School was started in 1891.
Road
The Grand Trunk Road (NH 2) runs across the subdivision. Asansol is connected to Kolkata by road with daily Volvo buses as well as non-ac government buses run by the South Bengal State Transport Corporation which ply at half-an-hour interval duration and this 224 km distance is taking 4 to 4.5 hours approximately. The South Bengal State Transport Corporation also plies buses in various other routes. Government Bus Service operators also includes the North Bengal State Transport Corporation which plies buses to towns of North Bengal. NH-60 connects Asansol with Orissa.
Railway
Asansol Junction railway station is the Division of Eastern Railway zone. This is one of the oldest divisions on the Indian Railways and has always been in the forefront of operations, both freight and passenger.The railway track from Kolkata to Delhi passes through the Asansol subdivision. Almost all of the trains linking Kolkata with north India connect Asansol with Kolkata as well as with North India. Several other trains connect the city to with Central, West and South Indian major cities.
Air
An aerodrome is located at Asansol. Kazi Nazirul Islam Airport is located at Andal, West Bengal. The airport serves the industrial cities of Durgapur and Asansol. It is roughly 15 km from Durgapur's City Centre and 25 km from Asansol's City Bus Terminus in West Bengal, India & is part of the country's first private sector Aerotropolis, being developed by Bengal Aerotropolis Projects Limited (BAPL). The airport was officially inaugurated on 19 September 2013.